Kalender 2021 - Calendar 2021 - Calendrier 2021 - Calendario 2021 - Kalender 2021

Herausforderung: 1 Baum 12 Themen 53 Bilder
Challenge: 1 tree 12 topics 53 pictures
Défi 1 arbre 12 sujets 53 photos
Desafío 1 árbol 12 temas 53 fotos
Uitdaging 1 boom 12 onderwerpen 53 afbeeldingen


2021 Mar:

Die Stadt Saarbrücken hat im Herbst 2020 die bestehende Kunst auf der ehemaligen Graffiti Freifläche hellgrau übermalt. Die Begründung war, dass die Europäischen Fördergelder zur Renovierung der Brücke an eine hellgraue Gestaltung des Durchganges gebunden seien. Das Tigersquirrel Kollektiv schlägt daher eine hellgraue künstlerische Gestaltung des Raumes vor.
Das komplette Konzept findet sich unter folgender Adresse:
http://www.tigersquirrel.eu/Konzept-online.pdf

In autumn 2020, the city of Saarbrücken painted over the existing art on the former graffiti open space in light gray. The reason was that the European funding for the renovation of the bridge was tied to a light gray design of the passage. The "Tigersquirrel Kollektiv" therefore suggests a light gray artistic design of the public space.
The complete concept (in German) can be found at the following address:
http://www.tigersquirrel.eu/Konzept-online.pdf

À l'automne 2020, la ville de Sarrebruck a peint sur l'art existant sur l'ancien espace ouvert de graffitis en gris clair. La raison en était que le financement européen pour la rénovation du pont était lié à une conception gris clair du passage. Le « Tigersquirrel Kollektiv » propose donc un design artistique gris clair de l'espace publique.
Le concept complet (en allemand) se trouve à l'adresse suivante :
http://www.tigersquirrel.eu/Konzept-online.pdf

En otoño de 2020, la ciudad de Saarbrücken pintó sobre el arte existente en el antiguo espacio abierto de graffiti en gris claro. La razón fue que la financiación europea para la renovación del puente estaba vinculada a un diseño gris claro del pasaje. Por lo tanto, el "Tigersquirrel Kollektiv" sugiere un diseño artístico gris claro del espacio publicó.
El concepto completo (en alemán) se puede encontrar en la siguiente dirección:
http://www.tigersquirrel.eu/Konzept-online.pdf

In het najaar van 2020 heeft de stad Saarbrücken de bestaande kunst op de voormalige open graffiti ruimte in lichtgrijs overgeschilderd. De reden was dat de Europese financiering voor de renovatie van de brug was gekoppeld aan een lichtgrijs ontwerp van de passage. Het "Tigersquirrel Kollektiv" stelt daarom een lichtgrijs artistiek ontwerp voor de openbare ruimte voor.
Het volledige concept (in het Duits) is te vinden op het volgende adres:
http://www.tigersquirrel.eu/Konzept-online.pdf


2020 Mar. - Jun.



t
Das Tigersquirrel Kollektiv und die Gallerie Têt'de L'art präsentieren:
Kunst in Quarantäne ein unfreiwillig einsames Happening
Vernissage: Samstag, 7. März Quarantäneende 20 Juni

The Tigersquirrel Kollektiv and the Têt'de L'art gallery present:
Art in quarantine an involuntarily lonely happening
Vernissage: Saturday, March 7th, end of quarantine June 20th

Le Tigersquirrel Kollektiv et la galerie Têt'de L'art présentent:
L'art en quarantaine, un événement involontairement solitaire
Vernissage: samedi 7 mars, déconfiment le 20 juin

El Tigersquirrel Kollektiv y la galería Têt'de L'art presentan:
Arte en cuarentena un acontecimiento involuntario y solitario
Inauguración: sábado 7 de marzo, la cuarentena finaliza el 20 de junio

Het Tigersquirrel Kollektiv en de galerie Têt'de L'art presenteren:
Kunst in quarantaine, een onvrijwillig eenzaam gebeuren
Vernissage: zaterdag 7 maart, quarantaine eindigt op 20 juni

Gallerie Galerie Têt' de l'Art, 70A rue Nationale, 57600 FORBACH
https://www.facebook.com/tetde.lart/

https://www.facebook.com/tetde.lart/
Déconfiment artistique - End of Corona exhibition - Ende der Kunst Quarantäne - Fin de la cuarentena artistica


2020 Mar.

Der Beitrag des Tigersquirrel Kollektives zur Whitepage Challenge des Grafitti Art Magazine

The contribution of the Tiger Squirrel collective to the Whitepage Challenge of Graffiti Art Magazine

La contribution du collectif Tiger Squirrel au Whitepage Challenge du Graffiti Art Magazine

La contribución del colectivo Tiger Squirrel al Whitepage Challenge de Graffiti Art Magazine

De bijdrage van het Tiger Squirrel-collectief aan de Whitepage Challenge van Graffiti Art Magazine


2020 Jan. - Nov.

Herausforderung: 1 Baum 12 Themen 53 Bilder
Challenge: 1 tree 12 topics 53 pictures
Défi 1 arbre 12 sujets 53 photos
Desafío 1 árbol 12 temas 53 fotos
Uitdaging 1 boom 12 onderwerpen 53 afbeeldingen

2020 from Jan 12.

Deutsch
Mt 19.24: "Eher geht ein Kamel durch ein Nadelöhr, als dass ein Reicher in das Reich Gottes gelangt"
Seit fast 2000 Jahren versuchen "interessierte Kreise" kleinere Kamele zu züchten und größere Nadeln herzustellen. Der aktuelle Versuch ist in Metz in der Rue des Écoles zu bewundern.

English
Mt 19.24: "It is easier for a camel to go through a needle's eye, than for a rich man to enter into the kingdom of God."
For almost 2000 years, "interested circles" have been trying to breed smaller camels and produce larger needles. The current attempt can be admired in Metz on Rue des Écoles.

Français
Mt 19.24: "Il est plus facile à un chameau de passer par le trou d'une aiguille qu'à un riche d'entrer dans le royaume de Dieu"
Depuis près de 2000 ans, les «cercles intéressés» tentent d'élever des chameaux plus petits et de produire des aiguilles plus grosses. La tentative actuelle peut être admirée à Metz sur la Rue des Écoles.

Castellano
Mt 19.24: "Es más fácil que un camello pase por el ojo de una aguja que un rico entre en el Reino de los Cielos"
Desde casi 2.000 años, "partes interesadas" están tratando de criar camellos más pequeños y de producir agujas más grandes. El ensayo actual es de admirar en Metz en la Rue des Écoles.

Nederlands
Mt 19.24: "Het is gemakkelijker dat een kameel door het oog van een naald gaat, dan dat een rijke het Koninkrijk van God binnengaat."
Al bijna 2000 jaar proberen mensen kleinere kamelen te fokken en grotere naalden te produceren. De huidige poging is te bewonderen in Metz aan de Rue des Écoles.


2019 Jul. 2 - Aug. 13

ERSCHEINUNG
durch eine Schwachstelle im Raum Zeit Kontinuum manifestiert sich das Paralleluniversum des
Tigersquirrel Kollektivs

APPEARENCE
through a weak spot in the space-time continuum manifests the parallel universe of the
Tigersquirrel Kollektiv

APPARITION
à travers une vulnérabilité dans le continuum espace-temps se manifeste l'univers parallèle du
Tigersquirrel Kollektiv

APARICIÒN
a través de una vulnerabilidad en el espacio-tiempo continuo se manifiesta el universo paralelo del
Tigersquirrel Kollektiv

VERSCHIJNING
Door een lek in het ruimte-tijd-continuüm openbaart zich het parallele universum van het
Tigersquirrel Kollektiv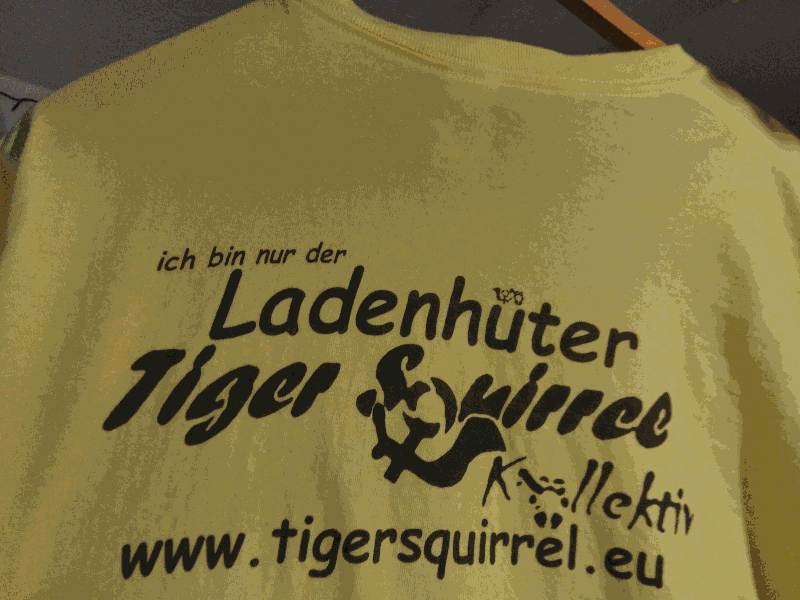 f
2019-04
Da draußen #2:

Eine Idee für den Wolfgang Staudte Platz in Saarbrücken, dessen Ambiente wie eine Kreuzung aus Affengehege im Zoo und modernem Parkdesign anmutet. Man ist sich nicht sicher, wer hier drinnen und wer hier draußen ist. Mit dem Motiv der teil-transparenten Eckinstallation "Da draußen", die als Interpretation des gleichnamigen Liedes von Sarah Lesch entstanden ist, wird eine grobe Säule aus rohen Betonblöcken gestaltet. Diese vertieft das Thema drinnen – draußen / Konflikt – Friede auch im Zusammenspiel mit dem den Park umgebenden Metallzaun. Auch ist die Säule ein schöner Kontrapunkt zur Metallsäule am anderen Eingang des Parks. Die Ausrichtung der Öffnung mit dem Bild ist nach Süden so dass das Sonnenlicht die Szenerie beleuchtet.

Maße der fertigen Säule ca. 40 cm x 40 cm x 200 cm.

Stand des Projektes im April 2019:
Modell 1:4 ist fertig und mit Grafikbearbeitung in ein Foto des Platzes eingearbeitet.

Da draußen (out there) #2:

An idea for the Wolfgang Staudte square, a small park at Saarbrücken which has an appearance mixed of a monkey enclosure in a zoo and modern park design. You're never sure who's in and who's out. Using the motive of the semi-transparent over the edge installation "da draußen" inspired by a song of Sarah Lesch a coarse pillar of rough concrete blocks is created. That emphases the thematic of in – out / conflict -peace in conjunction with the metal fence around the park. The pillar is a nice counterpoint to the metal pillar at the opposite entrance of the park. The orientation is southwards so the sun can shine on the scenery.
Measures of the finished pillar approx. 40 cm x 40 cm x 200 cm
project status April 2019:
a model 1:4 is built and an image of the final appearance created

Da draußen (là dehors) #2:

Une idée pour la place Wolfgang Staudte, un petit parc à Sarrebruck lequel a une ambiance entre un enclos des singes au zoo et du design des parcs moderne. On ne sait jamais qui es dehors et qui dedans. En utilisant le motif principal de l'installation plié semi transparent « Da draußen » inspiré par le chanson de Sarah Lesch un pilier grossier de béton brut est crée. Cela approfondit la thématique dedans – dehors / confrontation – paix avant tout en interaction avec la clôture métallique autour du parc. En plus ce pilier est un joli contrepoint au colonne métallique à l'entré opposé du parc. L'orientation est ver le sud ainsi le soleil éclaire l'image.
Mesure du pilier approximatif : 40 cm x 40 cm x 200 cm

Statut du projet avril 2019 :
un modèle 1:4 et un aperçu a base des images sont finis.

Da draußen (ahí fuera) #2:

Una idea por la plaza Wolfgang Staudte, un pequeño parque en Saarbrücken cual tiene un ambiente al dentro de recinto para monos de un zoo y diseño moderno de parques. Nunca sabes si estas al dentro o a fuera. Con el motivo de la instalación se mi-transparente para esquina "da draußen" inspirado del canción de Sarah Lesch una columna gruesa de hormigón crudo esta creado. Así se demuestra la tensión dentro al dentro- a fuera / conflicto -paz antes todo en conjunción con la valla metálica limitando el parque. Además es un lindo contrapunto al pilar metálico al entrada oposito del parque. La orientación del imagen está al sur, de esta manera el sol lo ilumina.

Medidas de la columna aproximativo 40 cm x 40 cm x 200 cm

estado del proyecto en abril 2019:
un modelo 1:4 y un imagen virtual están acabados

Da draußen (daar buiten) #2:

Een idee voor het Wolfgang Staudte plein in Saarbrücken, een kleine park met de uitstraling van een kruising tussen apenkooi in de dierentuin en modern parkontwerp. Men is niet zeker wie binnen is en wie buiten. Met het motief van de hoekinstallatie "daar buiten", gemaakt als een interpretatie van het gelijknamige lied van Sarah Lesch, een ruwe pijler van onafgewerkte betonblokken. Dit verdiept de onderwerpen binnen - buiten / conflict – vrede ook in interactie met de metalen omheining rondom het park. Tevens is de pilaar een mooie tegenhanger tot de metalen pilaar bij de andere ingang van het park. De oriëntatie van de opening met de afbeelding is naar het zuiden gericht, zodat het zonlicht het motief verlicht.

Afmetingen van de voltooide kolom ongeveer 40 cm x 40 cm x 200 cm.

Status van het project april 2019:
Model 1: 4 is voltooid en een foto van de plaats met grafische bewerking opgenomen.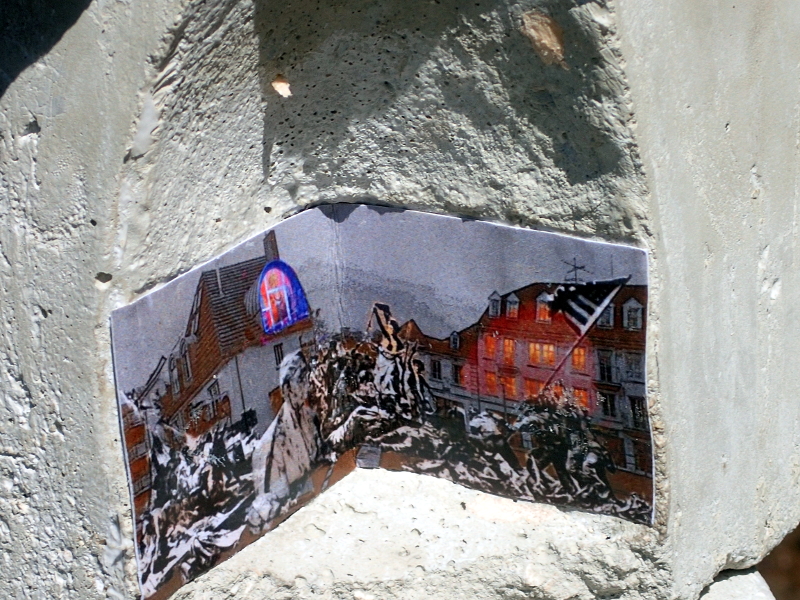 2019-04
Neuste Gerüchte aus Zeit und Raum:
Das Tigersquirrel Kollektiv hat beschlossen sich der Herausforderung zu stellen und am Wettbewerb zum Luxembourg Art Prize teilzunehmen.
Aus den Untiefen der Dimensionen ist ein Strategiepapier aufgetaucht:

New rumours from time and space:
The Tigersquirrel Kollektiv decided to accept the challenge and to participate at the contest of the Luxembourg Art Prize.
The abysses of dimensions leaked a strategy paper:

Nouveaux rumeurs des temps et espaces:
le Tigersquirrel Kollektiv a décidé d'accepter le challenge et de participer au concours du Luxembourg Art Prize.
Des abysses des dimensions est sotie miraculeusement un papier stratégie :

Nuevos rumores del tiempo y espacio :
El Tigersquirrel Kollektiv decidió de aceptar el desafió y compartir al concurso del Luxembourg Art Prize.
Desde las profundidades de los dimensiones apareció un documento estratégico:

Nieuwe roddel:
Het Tigersquirrel Kollektiv besluit de uitdaging aan te gaan en naar de Luxembourg Art Prize te soliciteeren.
Er kwam één geheim plan boven water:



2019-02
nur eine Idee:

ein Phönix für das Kraftwerk "Römerbrücke" in Saarbrücken;
Skulptur aus bunten transparenten Kunststoffplatten

just an idea:

a phoenix for the power station "Römerbrücke" at Saarbrücken
sculpture out of transparent colored plastic sheets

juste une idée:

un phénix pour la centrale "Römerbrücke" à Sarrebruck
sculpture de panneaux en plastique transparentes colorées

solo una idea:

un fénix para la central de energía "Römerbrücke" en Saarbrücken
escultura en placas plásticas transparentes colorados

slechts een idee :

een feniks voor de energiecentrale « Römerbrücke » in Saarbrücken
sculptuur van transparante kleurige kunststofplaten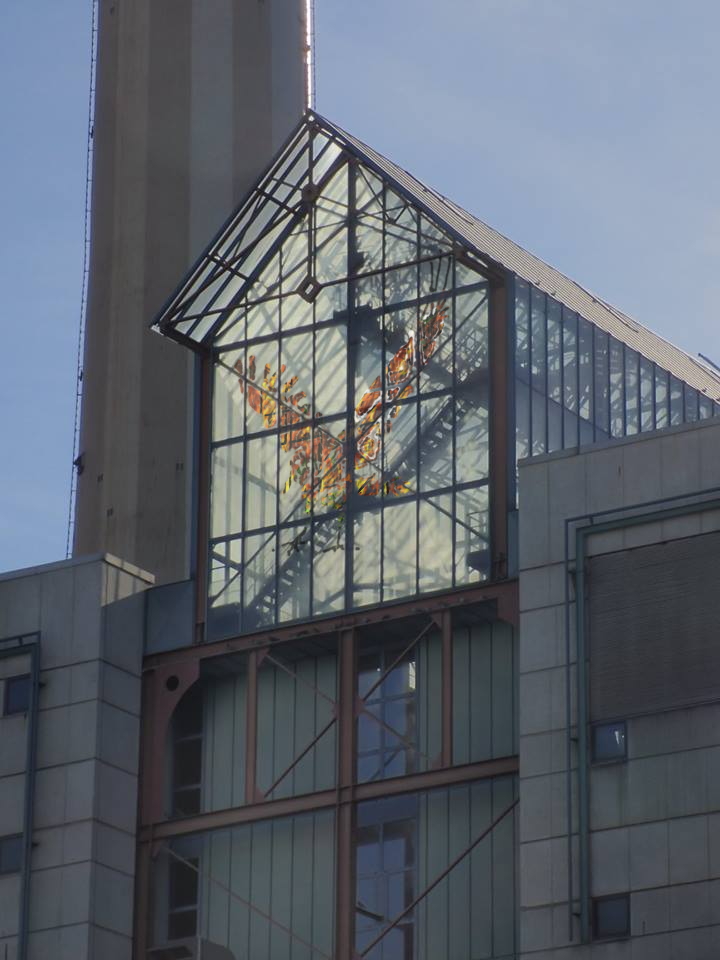 2018-04

Eine andere mögliche Antwort auf das Symbol des ungezügelten Kapitalismus als das "fearless Girl"
( https://de.wikipedia.org/wiki/Fearless_Girl )

Another possible answer to the symbol of unleashed capitalism than the "fearless Girl"
( https://en.wikipedia.org/wiki/Fearless_Girl )
Une autre réponse possible au symbole du capitalisme déchaîné que la « fearless girl »
( https://fr.wikipedia.org/wiki/Fearless_Girl )
Una otra respuesta posible al símbolo del capitalismo desenfrenado que la « fearless girl »
( https://elpais.com/internacional/2017/03/21/mundo_global/1490101676_794952.html )
Een ander mogelijk antwoord op het symbool van het grenzelose kapitalisme als het "fearless girl"
( https://nl.wikipedia.org/wiki/Charging_Bull )


Modelle - models - maquettes - maquetas - modellen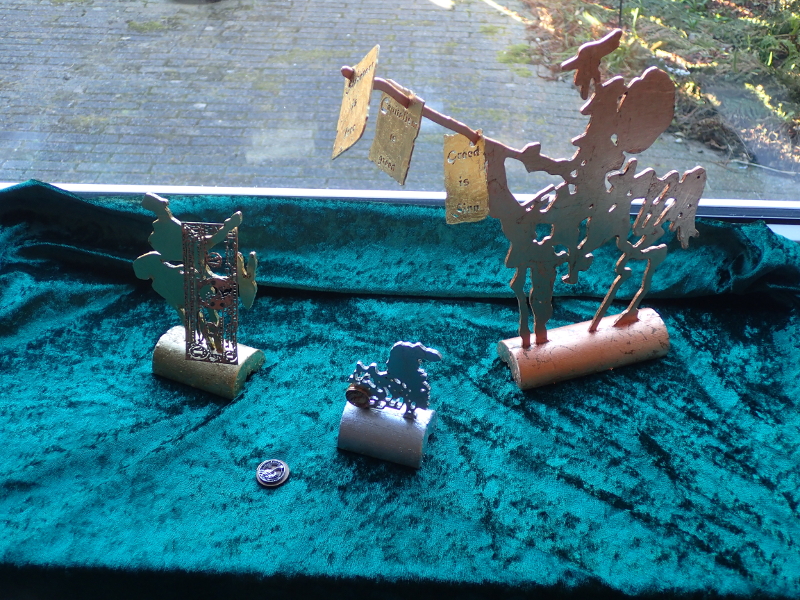 2018-02

Schaufesterdekoration bei Frontside Fashion zum Max Ophüls Preis.
Window decoration at Frontside Fashion for the Film Festival Max Ophüls

Décoration de la vitrine de Frontside Fashion pour le festival de film Max Ophüls
Decoración del escaparate en Frontside Fashion pare el festival de cine Max Ophüls
Etalage decoratie bij Frontside Fashion voor Max-Ophuls-Filmfestival